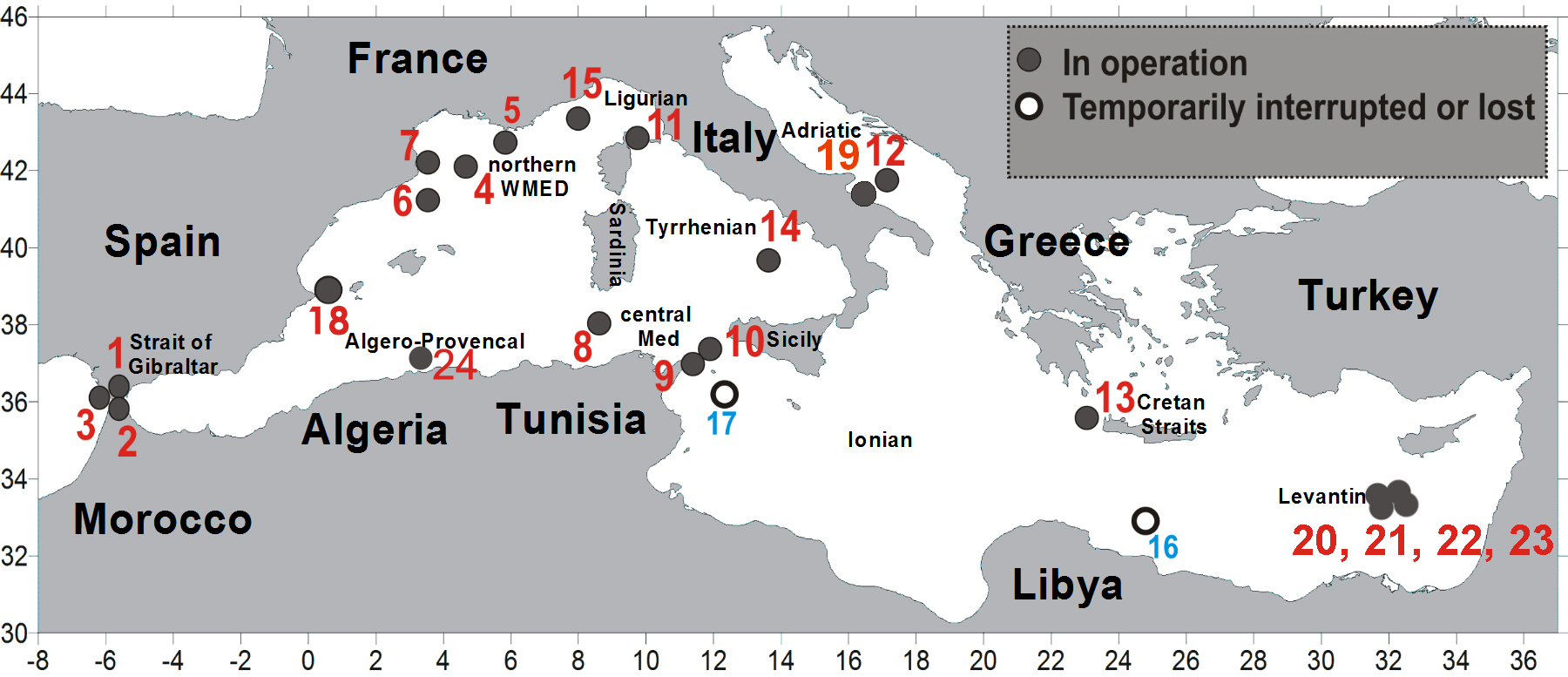 Fig. 1 Hydrochanges Program Network
The numbers refer to details of each site, which are listed in Table 1 (below): institutes involved, position, time frame, instruments and measured parameters for each depth.
Brief description of the program:
In situ measurements of temperature and salinity, collected with adequate spatial and temporal resolutions, and with particular attention to sensitive, often long-neglected Mediterranean areas (straits and channels, zones of dense water formation, deeper parts of the basins), constitute a priority, particularly in the current context of global climate change. To this effect, our CIESM program is deploying/ monitoring an array of stations that could be viewed in time as the marine counterpart of meteorological stations. A station is composed of a short (~10 m high) subsurface mooring equipped with an autonomous CTD (1 to 2-hr sampling interval) and usually a current-meter. Moorings are set in place close to the seabed at depths ranging from 300 to 2,500 m, for periods of 1-2 years before recovery (for maintenance and calibration) and re-deployment, by scientific teams and/ or hydrographic services of participating countries. More than twenty stations are already in operation, plus those susceptible to be deployed soon, are indicated on the map below.
List of Hydrochanges Partners:
Rosa Balbín (IEO, Spain)
Sana Ben Ismail (INSTM-Tunis, Tunisia)
Lahoucine Bengara (Univ. Abdelmalek Essaâdi, Tanger, Maroc)
Manuel Bensi (OGS, Trieste, Italy)
Mireno Borghini (CNR-ISMAR, Italy)
Giorgio Budillon (DiSAm, Naples, Italy)
Vanessa Cardin (OGS-Trieste, Italy)
Laurent Coppola (Observatoire Oceanologique, Villefranche-sur-mer, France)
Christian Curtil (Univ. Med., France)
Aldo Drago (Malte)
Bouchta El Moumni (Univ. Abdelmalek Essaâdi Tanger, Maroc)
Jordi Font (ICM-CSIC, Spain)
Jesus Garcia Lafuente (Univ. Malaga, UMA, Spain)
Gianpietro Gasparini (ISMAR, Italy)
Harilaos Kontoyiannis (HCMR, Greece)
Leonardo Langone (ISMAR, Italy)
Dominique Levefre (ANTARES Group, France)
Jose Luis López-Jurado (IEO, Spain)
Ferial Louanchi (ENSSMAL, Algeria)
Claude Millot (CNRS, France)
Stefano Miserocchi (ISMAR, Italy)
Pere Puig (ICM-CSIC, Spain)
Jordi Salat (ICM-CSIC, Spain)
Cherif Sammari (INSTM-Tunis, Tunisia)
Antonio J. Sánchez Román (Univ. Malaga, UMA, Spain)
Stefania Sparnocchia (CNR, Italy)
Christian Tamburini (ANTARES Group, France)
Isabelle Taupier-Letage (MIO, CNRS Aix-Marseille University, France)
Alex Theocharis (HCMR, Greece)
Manuel Vargas (IEO, Spain)
Anna Vetrano (ISMAR, Italy)