Glaucostegus cemiculus
Common name : Blackchin Guitarfish, Giant guitarfish
Order: Rhinopristiformes
Family: Glaucostegidae
Synonyms: Rhinobatos cemiculus, Glaucostegus petiti
Misidentifications: None.
Short description
Large to very large species with an elongated tubular body. Head, body and pectoral fins are combined in a triangular disc, with rostral ridges narrowly separated posteriorly and almost joined anteriorly. Small denticles cover a rough skin. Distance between dorsal fins is about equal to that between the base of the first dorsal fin and the axilla of the pectoral fin. A row of thorns from nape to the first dorsal fin. Thorns along the rostral cartilage, around orbits and spiracles, between dorsal fins.

Color: Beige to brownish dorsal surface. White ventral surface.

Measurements:
Total length (TL): 180 cm (max 265 cm).
Weight: up to 49.9 kg
Swimming pattern: Axial-undulatory locomotion.
Biology / Ecology
Feeds mainly on benthic crustaceans and small fishes.

Reproduction: Viviparous (aplacental viviparity with histotrophy). Annual reproduction cycle. Size at maturity in Mediterranean (TL): 110-138 cm female, 100-112 cm male. Size at maturity in Senegal (TL): 163 cm female at 5.1 years, 155 cm male at 3.9 years. Mature at smaller size in the Mediterranean Sea: males 100-110 cm TL, females ~110 cm TL. Juveniles per litter per year: 1-6. Size at birth (TL): ~34 cm.

Habitat: Benthic species living on sandy and muddy bottoms from nearshore to 100 m of depth on the continental shelf.
Generally ambush crustaceans and small fish by pinning them down with their long snouts and then sucking them into their mouths.
Distinguishing characteristics
Rostral ridges narrowly separated.
Distances between dorsal fins are about equal to that between the base of the first dorsal fin and the axilla of the pectoral fin.
Glaucostegidae: Snout elongated and pointed. Strongly depressed trunk. Pectoral fins enlarged.
Distribution
Worldwide: Atlantic, from Northern Portugal to Angola.
Mediterranean: Southern and eastern Mediterranean basin. A laying area has been identified from the Gulf of Gabès. One recent record from the Black Sea.
Occurence: Abundant.
Latest records: Alexandria – Egypt (2018-2020), Cyprus (2019), Tunisia (2007-2008, 2016-2017), Lebanon (2012-2014), Izmir bay – Turkey (2013), Syria (2003), Iskenderun bay – Turkey (2010-2011), Black Sea (2009-2018), Adriatic Sea (before 1948), Ligurian Sea and upper Tyrrhenian Sea (before 1898).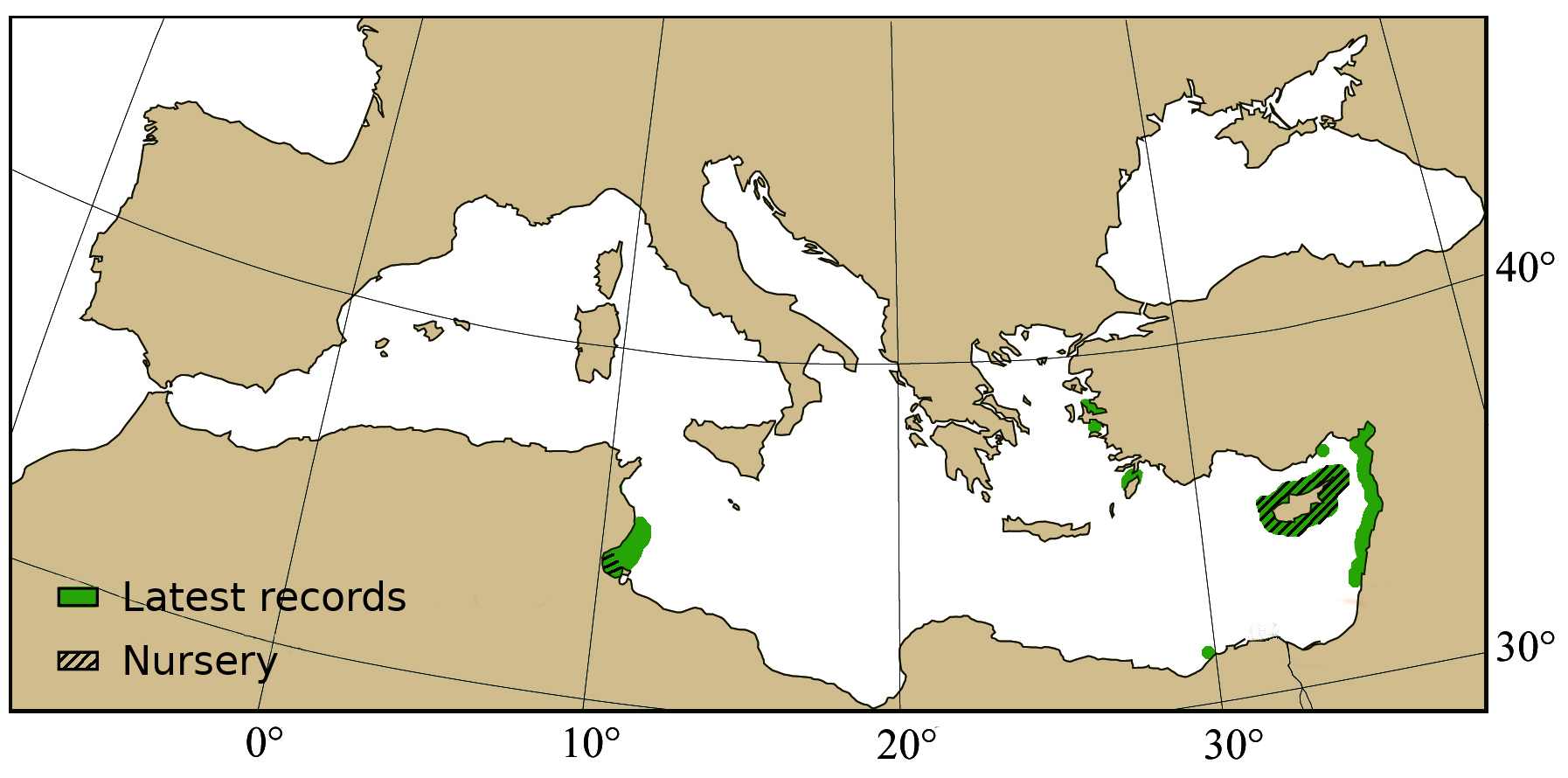 Conservation
Threats: High fishing pressure from West Africa. Taken as bycatch by bottom trawlers with commercial value in some ports of the Mediterranean Sea.

Protection level:
Global: Critically Endangered (IUCN 2019, last assessment: 2018)
Key references
Carpentieri P., Nastasi A., Sessa M., Srour A. 2021. Incidental catch of vulnerable species in Mediterranean andBblack Sea fisheries – A review. General Fisheries Commission for the Mediterranean – Studies and Reviews 101: I-317.
Giovos I., Serena F., Katsada D., Anastasiadis A., Barash A., Charilaou C., Hall-Spencer J.M.,Crocetta F.,Kaminas A., Kletou D, Maximiadi M., Minasidis V., Moutopoulos D.K., Aga-Spyridopoulou R.N., Thasitis I., Kleitou P. 2021. Integrating literature, biodiversity databases, and citizen-science to reconstruct the checklist of Chondrichthyans in Cyprus (Eastern Mediterranean Sea). Fishes 6(3): 24.
Golani D. 2005. Checklist of the Mediterranean fishes of Israel. Zootaxa 947(1): 1-90.
Lteif M., Mouawad R., Jemaa S., Khalaf G., Lenfant P., Verdoit-Jarraya M. 2016. The length-weight relationships of three sharks and five batoids in the Lebanese marine waters, eastern Mediterranean. Egypt. J. Aquat. Res. 42: 475–477.