Leucoraja circularis
Common name: Sandy ray
Order: Rajiformes
Family: Rajidae
Synonyms: Raja circularis
Misidentifications: Leucoraja fullonica
Short description
Large skate. Rounded disc, with longer tail. Short muzzle with pronounced tip. Spiny upper surface. A row of 8 thorns around the margin of eyes. A big triangle of thorns on the shoulder area. Smooth ventral surface with prickles in several areas.

Color: Ash-gray to dark brown dorsal surface, with 4-6 creamy spots with dark margin. White ventral surface.
Measurements:
Total length

(TL): 60 – 100 cm (max 120 cm).




Females seem to be larger than male.
Swimming pattern: Undulatory and pelvic fin locomotion (walking and punting).
Egg case
Rectangular shape and pointed horns at the corners, deposited in sandy or muddy bottoms.
Size: 8-9 cm length, 4-5 cm wide.
Distinctive features:
5 cm > Egg-case length ≥ 3 cm
Anterior horn length greater than the egg-case length

Leucoraja: Egg case with long pointed horns. Anterior horns length greater than twice the posterior. Rear horns relatively long.
Rajiformes / Rajidae: Rectangular egg-case, width inferior or equal to two times the capsule length.
Biology / Ecology
Feeds on all kinds of bottom animals such as crustaceans, cephalopods and elasmobranchs.
Reproduction: Oviparous. Size at maturity (TL): 66 cm male. Females immature at 76 cm (TL). Size at birth (TL): 8-9 cm.
Habitat: Demersal near soft substrate in cold and temperate waters of the outer continental shelf and upper slope. Recently found in deeper waters between 200 and 800 m, mainly around 100 m of depth.
According to the FAO, this species should be considered extinct in the Mediterranean Sea – but recent records contradict this view.
Distinguishing characteristics
Short muzzle with pronounced tip.
Several small circular spots of color cream with a dark margin, often symmetrical.
Tips of the disk rounder than L. fullonica.
Rajiformes / Rajidae: Depressed body. Circular to rhombic disc. Tail well demarcated from disc.
Distribution
Worldwide: Northeastern Atlantic and Mediterranean Sea. Absent from Black Sea.
Occurrence: Rare
Latest records: Sardinian Sea (2007-2021), Malta (2005-2018), South Sicily – Italy (2015-2018), Portugal (1986-2017), Atlantic – Morocco (2016), Northern Alboran Sea – Spain (2012-2015), Corsica – France (2012-2015), Tyrrhenian Sea – Italy (2012-2015), Southern Adriatic Sea – Italy, Albania, Montenegro (2012-2015), Northwestern Ionian Sea (2012-2015), Aegean Sea (2012-2015), Calabria – Italy (2011), Balearic Sea (2001-2010), Cyprus (2009), Algeria (2003-2004), Northern Adriatic Sea (1948).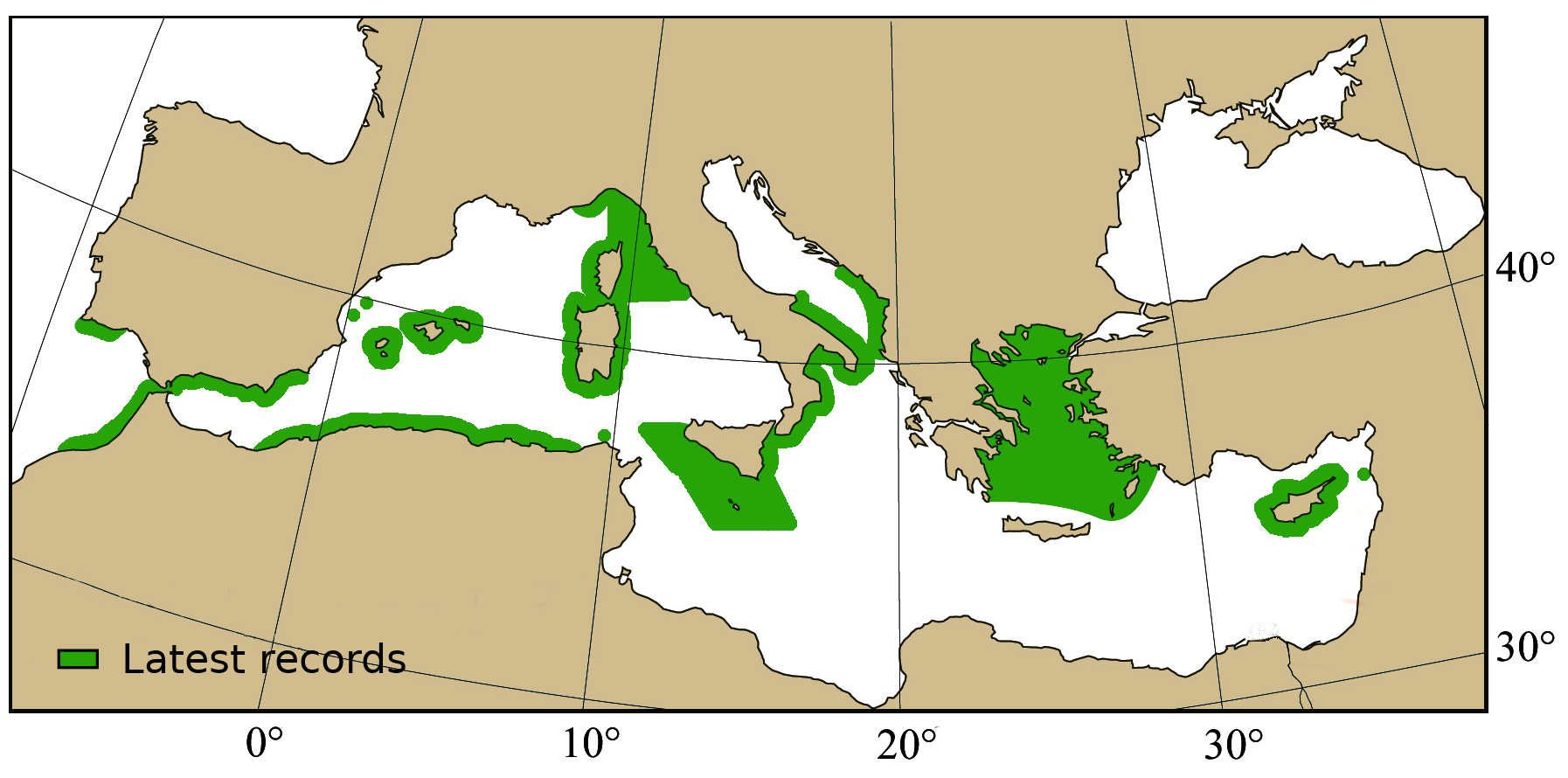 Conservation
Threats: Taken as bycatch with bottom trawlers.

Protection level:
Mediterranean: Critically Endangered (IUCN 2016, last assessment: 2016)
Global, Europe: Endangered (IUCN 2015, last assessment: 2014)
Key references
Alkusairy H., Saad A. 2018. First record of Leucoraja circularis (Chondrichthyes: Rajidae) in the Syrian marine waters (Eastern Mediterranean). Marine Biodiversity Records 11(1): 1-5.
Carluccio A., Capezzuto F., Maiorano P., Sion L., D'Onghia G. 2021. Deep-water cartilaginous fishes in the Central Mediterranean Sea: Comparison between geographic areas with two low impact tools for sampling. Journal of Marine Science and Engineering 9(7): 686.
Carpentieri P., Nastasi A., Sessa M., Srour A. 2021. Incidental catch of vulnerable species in Mediterranean and Black Sea fisheries – A review. General Fisheries Commission for the Mediterranean. Studies and Reviews 101: I-317.
Follesa M. C., Marongiu M. F., Zupa W., Bellodi A., Cau A., Cannas R., Colloca F., Djurovic M., Isajlovic I., Jadaud A., Manfredi C., Mulas A., Peristeraki P., Porcu C., Ramirez-Amaro S., Salmerón Jiménez F., Serena F., Sion L., Thasitis I., Cau A., Carbonara P. 2019. Spatial variability of Chondrichthyes in the northern Mediterranean. Scientia Marina 83(S1) : 81-100.
Geraci M. L., Ragonese S., Scannella D., Falsone F., Gancitano V., Mifsud J., Gambin M., Said A., Vitale S. 2021. Batoid abundances, spatial distribution, and life history traits in the Strait of Sicily (Central Mediterranean Sea): Bridging a knowledge gap through three decades of survey. Animals 11(8): 2189.
Giovos I., Serena F., Katsada D., Anastasiadis A., Barash A., Charilaou C., Hall-Spencer J.M.,Crocetta F.,Kaminas A., Kletou D, Maximiadi M., Minasidis V., Moutopoulos D.K., Aga-Spyridopoulou R.N., Thasitis I., Kleitou P. 2021. Integrating literature, biodiversity databases, and citizen-science to reconstruct the checklist of Chondrichthyans in Cyprus (Eastern Mediterranean Sea). Fishes 6(3): 24.
Mancusi C., Massi D., Baino R., Cariani A., Crobe V., Ebert D.A., Ferrari C., Gordon A., Hoff G.R., Iglesias S.P., Titone A., Serena F. 2021. An identification key for Chondrichthyes egg cases of the Mediterranean and Black Sea. The European Zoological Journal 88(1): 436-448.
Mnasri N., Boumaïza M, Capapé C. 2009. Morphological data, biological observations and occurrence of a rare skate, Leucoraja circularis (Chondrichthyes: Rajidae), off the northern coast of Tunisia (central Mediterranean). Pan-American Journal of Aquatic Sciences 4(1): 70-78.
Ordines F., Massutí E., Moranta J., Quetglas A., Guijarro B., Fliti K. 2011. Balearic Islands vs Algeria: two nearby western Mediterranean elasmobranch assemblages with different oceanographic scenarios and fishing histories. Scientia Marina 75(4): 707-717.
Villagra D., Van Bogaert N., Ampe B., Walker P., Uhlmann S. S. 2022. Life-history traits of batoids (Superorder Batoidea) in the Northeast Atlantic and the Mediterranean. Reviews in Fish Biology and Fisheries: 1-23.