Raja asterias
Common name : Starry Skate
Order: Rajiformes
Family: Rajidae
Synonyms: None
Misidentifications: None
Short description
Medium-sized skate. Rhomboid disc with sinuous anterior margins. Pointed muzzle. Smooth dorsal surface on juveniles, spines dorsal surface on adults (50-70 irregular spines from neck to the first dorsal fin). Row of spines sometimes along the tail.

Color: Light brown dorsal surface with several dark spots partially surrounded by larger light spots. White ventral surface.

Measurements:
Total length (TL): up to 75 cm (max 94 cm)
Weight: up to 2.5 kg
Swimming pattern: Undulatory and pelvic fin locomotion (walking and punting).
Egg case
Small capsules with a rectangular, almost square, shape. Egg-cases laid on sandy or muddy substrate, exclusively on the continental shelf at 28-92m of depth. Rounded and pronounced posterior apron, while anterior were slightly longer and straighter. Adhesive fibres attached to a pronounced lateral keel.
Fresh color: yellowish with brown shades.
Size: 3-4.5 cm length, 3 cm wide.
Distinctive features:
Small egg, rectangular/square in shape.
Narrow keels.
Moderate and thin, anteriors and posterior, horns.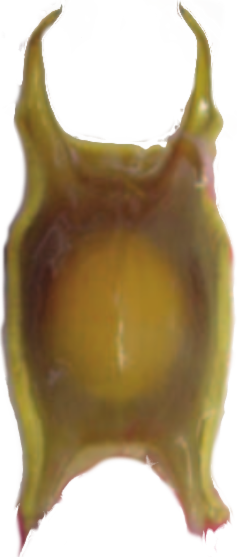 Raja: Long posterior horns. Anterior horns length less than twice the posterior.
Rajiformes / Rajidae: Rectangular egg-case, width no greater than twice the capsule length.
Biology / Ecology
Feeds on all kinds of benthic animals.
Reproduction: Oviparous. Size at maturity (TL): 56.1-60 cm female, 45-54 cm male at 3-4 year. Carrying 34-112 egg cases yearly on the same site. Laying seems to change in relation to geographical area. Embryos development in 5-6 months. Size at birth (TL): ~8cm.
Habitat: Benthic in inshore waters on sandy or muddy bottom substrates. Depth: 2-700 m (usually 20-50 m). Possibly occurs down to 800 m of depth. After birth, juveniles go quickly into shallow water from 5-7 m of depth and move progressively into deeper waters as they grow.
In northern Adriatic Sea, decapod crabs are their favourite food source (followed by teleost fish and cephalopods).
Distinguishing characteristics
White spots surrounded by small dark dots.
50-60 median thorns from neck to the tail.
Rajiformes / Rajidae: Depressed body. Circular to rhombic disc. Tail well demarcated from disc.
Distribution
Worldwide: Endemic to the Mediterranean, probably propagated to the near Atlantic region (Strait of Gibraltar, northern Morocco and possibly south to Mauritania). Absent in the Black Sea.
Mediterranean:  Whole Mediterranean.
Occurrence: Abundant. Less common in the eastern part.
Latest records: Alboran Sea (2018), Gulf of Cadiz – Spain (2018), Sardinia (2017), Adriatic Sea (2012-2015), Aegean Sea (2012-2015), Cyprus (2012-2015), Balearic Sea (2012-2015), Italy (2012-2015), Algeria (2003-2004), Malta (2003).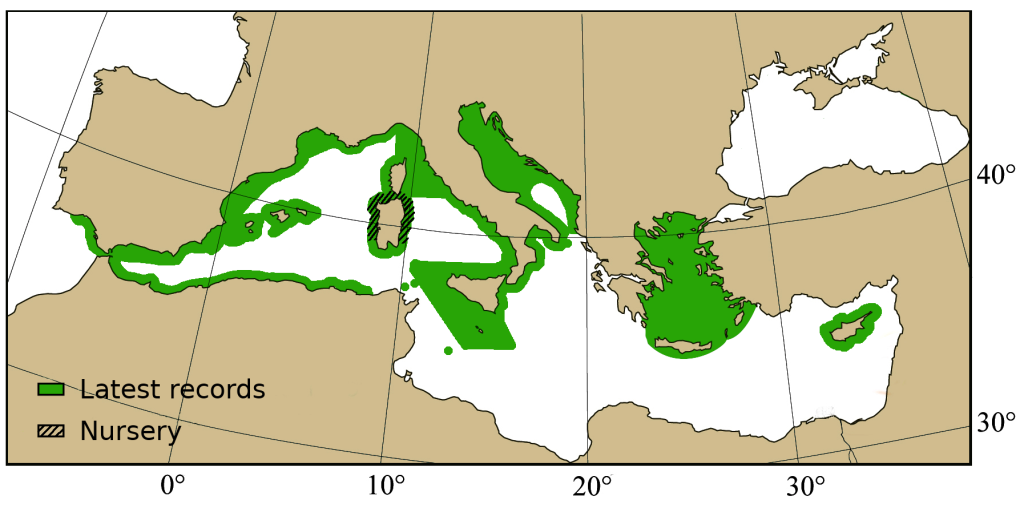 Conservation
Threats: Bycatch in the bottom trawl fisheries. Regularly caught by beam trawl as a secondary target species. Juveniles frequently caught by trammel nets in very shallow waters (2–15 m) and discarded alive.

Protection level:
Mediterranean: Near Threatened (IUCN 2016, last assessment: 2016)
Global, Europe: Least Concern (IUCN 2015, last assessment: 2014)
Key references
Carpentieri P., Nastasi A., Sessa M., Srour A. 2021. Incidental catch of vulnerable species in Mediterranean and Black Sea fisheries – A review. General Fisheries Commission for the Mediterranean – Studies and Reviews 101: I-317.
Follesa M. C., Marongiu M. F., Zupa W., Bellodi A., Cau A., Cannas R., Colloca F., Djurovic M., Isajlovic I., Jadaud A., Manfredi C., Mulas A., Peristeraki P., Porcu C., Ramirez-Amaro S., Salmerón Jiménez F., Serena F., Sion L., Thasitis I., Cau A., Carbonara P. 2019. Spatial variability of Chondrichthyes in the northern Mediterranean. Scientia Marina 83(S1): 81-100.
Giovos I., Serena F., Katsada D., Anastasiadis A., Barash A., Charilaou C., Hall-Spencer J.M.,Crocetta F.,Kaminas A., Kletou D, Maximiadi M., Minasidis V., Moutopoulos D.K., Aga-Spyridopoulou R.N., Thasitis I., Kleitou P. 2021. Integrating literature, biodiversity databases, and citizen-science to reconstruct the checklist of Chondrichthyans in Cyprus (Eastern Mediterranean Sea). Fishes 6(3): 24.
Marongiu M.F., Porcu C., Bellodi A., Cannas R., Cau A., Cuccu D., Mulas A., Follesa M.C. 2017. Temporal dynamics of demersal chondrichthyan species in the central western Mediterranean Sea: The case study in Sardinia Island. Fisheries Research 193: 81-94.
Ordines F., Massutí E., Moranta J., Quetglas A., Guijarro B., Fliti K. 2011. Balearic Islands vs Algeria: two nearby western Mediterranean elasmobranch assemblages with different oceanographic scenarios and fishing histories. Scientia Marina 75(4): 707-717.
Porcu C., Marongiu M.F., Bellodi A., Cannas R., Cau A., Melis R., Mulas A., Soldovilla G., Vacca L., Follesa M.C. 2017. Morphological descriptions of the eggcases of skates (Rajidae) from the central-western Mediterranean, with notes on their distribution. Helgoland Marine Research 71(1): 1-14.