Raja miraletus
Common name : Brown Skate
Order: Rajiformes
Family: Rajidae
Synonyms: None
Misidentifications: None
Short description
Small skate. Angular disc with a circular body with pectoral fins wider than long and an edge forming a sinuous curve. Snout short with rounded tip. Pectoral fins with clear angles on the lateral side. Triangular pelvic fins. Upper surface prickly only in young, nearly smooth in adults, underside smooth.

Color: Upper surface ochre to reddish-brown with scattered dark spots, underside white. Two bright blue eyespots centred on the pectoral fins. Eyespots are surrounded by a black ring, itself surrounded by a yellow-orange ring. Sometimes a small dark spot on the snout tip.
Measurements:
Total length (TL): 35 cm (max 70 cm)
Swimming pattern: Undulatory and pelvic fin locomotion (walking and punting).
Egg case
Very small egg with a surface densely covered in fibres, where there are fine striations and a texture smooth to the touch. Rectangular in shape, with pointed horns at the corners deposited in sandy or muddy flats. Characterised by a lower number of lamellae. Short and thin posterior horns, while anteriors are thinner and slightly longer. Lateral keels totally absent. Adhesion fibres attached to the horns. Rounded and short posterior apron. Straight anterior apron, three times the length of the anterior.
Fresh color: from brown to amber.
Size: 4.2-5.2 cm length, 2.7-2.9 cm wide.

Distinctive features:
Short anterior and posterior horns of the egg-case.
Well developed anterior apron.
Not evident lateral keel.
Raja: Long posterior horns. Anterior horns length less than twice the posterior.
Rajiformes / Rajidae: Rectangular egg-case, width no greater than twice the capsule length.
Biology / Ecology
Feeds on all kinds of benthic animals.
Reproduction: Oviparous. Size at maturity: 39-44 cm females (TL), 36-40 cm males (TL) and 24 cm disk width (DW) for female, 22 cm (DW) for male. Embryonic development until hatching takes about 5 months. Size at birth (TL): 5-11 cm. Eggs per year: 40-72. Egg laid from spring to summer.
Habitat: Preference for sandy bottoms. Occurs also on Posidonia seagrass beds, on continental shelf and on the upper slope. Found from 10 to 556 m of depth. Possibly occurs down to 800m of depth.
One of the most abundant rays in the Mediterranean Sea.
Distinguishing characteristics
Big circular and light blue occella on each pectoral fin.
Rajiformes / Rajidae: Depressed body. Circular to rhombic disc. Tail well demarcated from disc.
Distribution
Worldwide: From Spain in the Southeastern Atlantic to Mozambique in the Southwestern Indian Ocean.
Mediterranean:
Occurrence: Abundant.
Latest records: Gulf of Gabes – Tunisia (2017), Sardinia – Italy (2017), Portugal (1986-2017), Atlantic – Morocco (2015), Aegean Sea (2012-2015), Corsica (2012-2015), Cyprus (2012-2015), Gulf of Lion – France (2012-2015), Greece (2012-2015), Italy (2012-2015), Crete (2012-2015), Malta ( 2003), Northern Spain (2012-2015), Marmara Sea (2013), Lebanon (2012-2014), Iskenderun bay – Turkey (2010-2011), Edremit, Izmir, Saros and Sigacik bay – Turkey (2007-2009), Calabria – Italy (2007), Algeria (2003-2004), Malta (2003).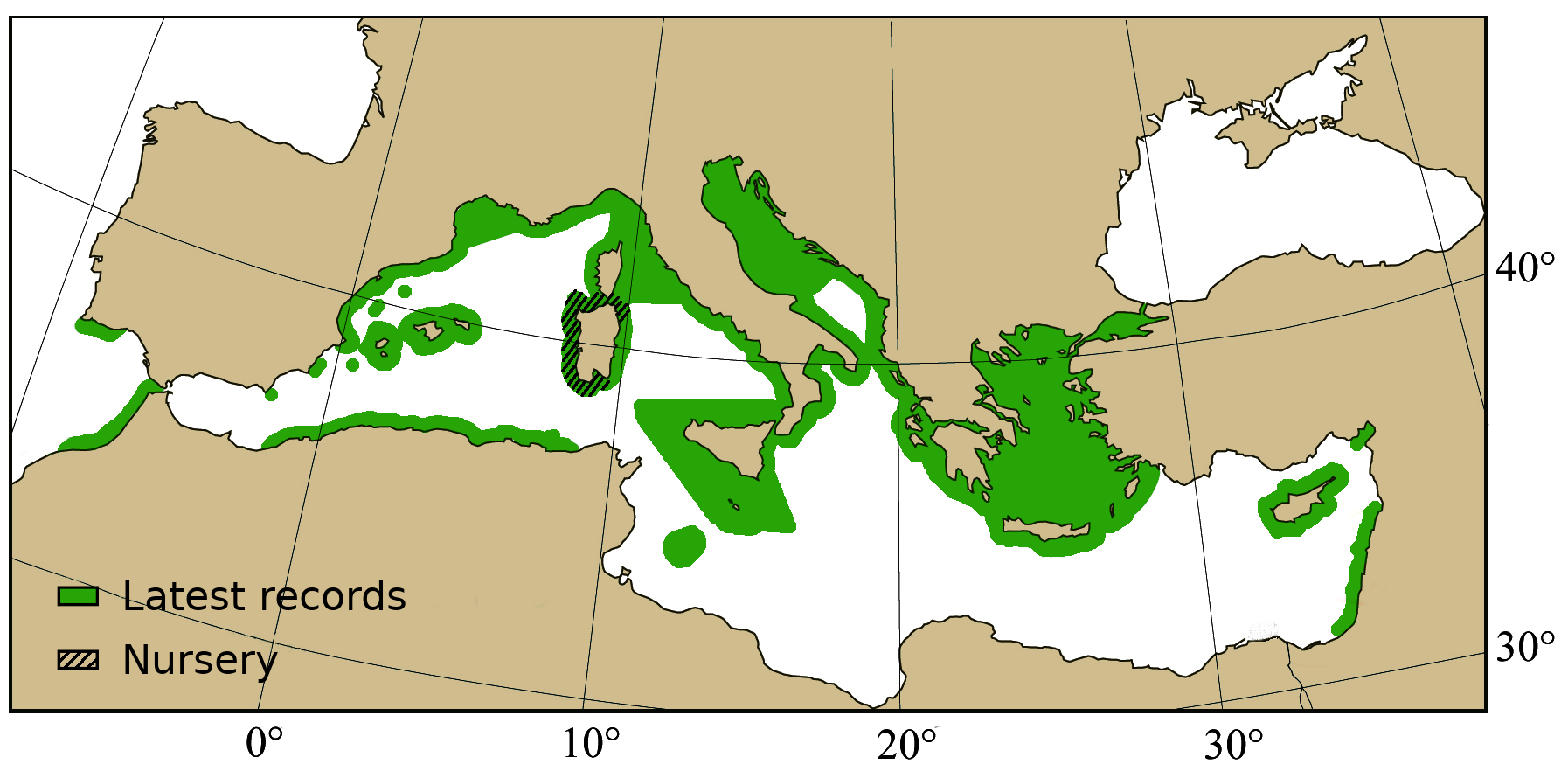 Conservation
Threats: Commonly taken as bycatch by bottom trawl fisheries. Most of the specimens are discarded, but the larger individuals are occasionally marketed, but with a low commercial value in several areas of the Mediterranean.

Protection level:
Mediterranean: Least Concern (IUCN 2020, last assessment: 2016)
Global range: Least Concern (IUCN 2019, last assessment: 2019)
Key references
Cahide Ç.Y, İşmen A. 2021. Biological Aspects of the Brown Ray (Raja miraletus Linnaeus, 1758) in the Saros Bay, the Northern Aegean Sea. Çanakkale Onsekiz Mart University Journal of Marine Sciences and Fisheries 4: 32‑41.
Carpentieri P., Nastasi A., Sessa M., Srour A. 2021. Incidental catch of vulnerable species in Mediterranean and Black Sea fisheries – A review. General Fisheries Commission for the Mediterranean. Studies and Reviews 101: I-317.
Ebert D.A., Compagno L.J.V., Cowley P.D. 2008. Aspects of the reproductive biology of skates (Chondrichthyes: Rajiformes: Rajoidei) from southern Africa. ICES Journal of Marine Science 65: 81‑102.
Follesa M. C., Marongiu M. F., Zupa W., Bellodi A., Cau A., Cannas R., Colloca F., Djurovic M., Isajlovic I., Jadaud A., Manfredi C., Mulas A., Peristeraki P., Porcu C., Ramirez-Amaro S., Salmerón Jiménez F., Serena F., Sion L., Thasitis I., Cau A., Carbonara P. 2019. Spatial variability of Chondrichthyes in the northern Mediterranean. Scientia Marina 83(S1): 81-100.
Mancusi C., Massi D., Baino R., Cariani A., Crobe V., Ebert D.A., Ferrari, C, Gordon A., Hoff G.R., Iglesias S.P., Titone A., Serena F. 2021. An identification key for Chondrichthyes egg cases of the Mediterranean and Black Sea. The European Zoological Journal 88(1): 436-448
Marongiu M.F., Porcu C., Bellodi A., Cannas R., Cau A., Cuccu D., Mulas A., Follesa M.C. 2017. Temporal dynamics of demersal chondrichthyan species in the central western Mediterranean Sea: The case study in Sardinia Island. Fisheries Research 193: 81-94.
Porcu C., Marongiu M.F., Bellodi A., Cannas R., Cau A., Melis R., Mulas A., Soldovilla G., Vacca L., Follesa M.C. 2017. Morphological descriptions of the eggcases of skates (Rajidae) from the central-western Mediterranean, with notes on their distribution. Helgoland Marine Research 71(1): 1-14.