Raja radula
Common name: Rough skate
Order: Rajiformes
Family: Rajidae
Synonyms: Raja atra
Misidentifications: Leucoraja naevus, Raja africana
Short description
Small to medium skate, circular body with pectoral fins wider than long and an edge forming a sinuous curve. Upper surface covered with rough spinules. Short and obtuse snout. Small spines on the ventral surface (snout, and the posterior half of the tail). Two spines between the dorsal fins.

Color: One pair of yellow ocelli surrounded by a dark border with light dots, on the middle of pectoral fins. The rest of the back is yellowish-grey with grey spots and streaks.
Measurements:
Total length (TL): 20-50 cm (max 70 cm)
Swimming pattern: Undulatory and pelvic fin locomotion (walking and punting).
Egg case
Size: 5-6 cm length, 3.5 cm wide.
Distinctive features:
5 cm < Egg-case length < 7 cm
Raja: Long posterior horns. Anterior horns length less than twice the posterior.
Rajiformes / Rajidae: Rectangular egg-case, width no greater than twice the capsule length.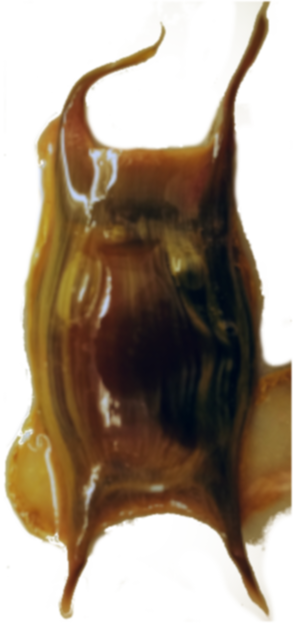 Biology / Ecology
Feeds on small benthic invertebrates.
Reproduction: Oviparous. Maturity size (DW): 34 cm female, 30 cm male. Maturity Size (TL): 40-47 cm males, females 46-56 cm. Spawning season in the spring and summer. Egg-case per year: 80-154. Size at birth (TL): ~5 cm.
Habitat: Demersal species in coastal waters. Inhabits sandy or muddy bottom from surface to 300 m of depth.
Some Atlantic records are probably misidentifications of Leucoraja naevus and/or Raja africana and need to be clarified.
Distinguishing characteristics
Colour pattern with dark bands and spots and two large "eye spots" encircled by a dark outer edge with light dots.
Short and obtuse snout.
Rough spinules.
Rajiformes / Rajidae: Depressed body. Circular to rhombic disc. Tail well demarcated from disc.
Distribution
Worldwide: Eastern Atlantic from Gibraltar to Morocco. Absent from the Black Sea.
Mediterranean: Endemic to Mediterranean. Found mainly in the western Mediterranean, relatively common in shallow waters of Balearic Sea.
Occurrence: Common/Rare.
Latest records: Central-North Aegean Sea (2019), Cyprus (2018), Gulf of Gabès- Tunisia (2017), Valencia coast – Spain (2017), Balearic Sea (2012-2015), Greece (2012-2015), Sigacik, Saros, Izmir and Edremit bay – Turkey (2007-2009), Tunisian coast (2008), Marmara Sea (2006), Algeria (2003-2004), Malta (2003), Adriatic Sea (1994).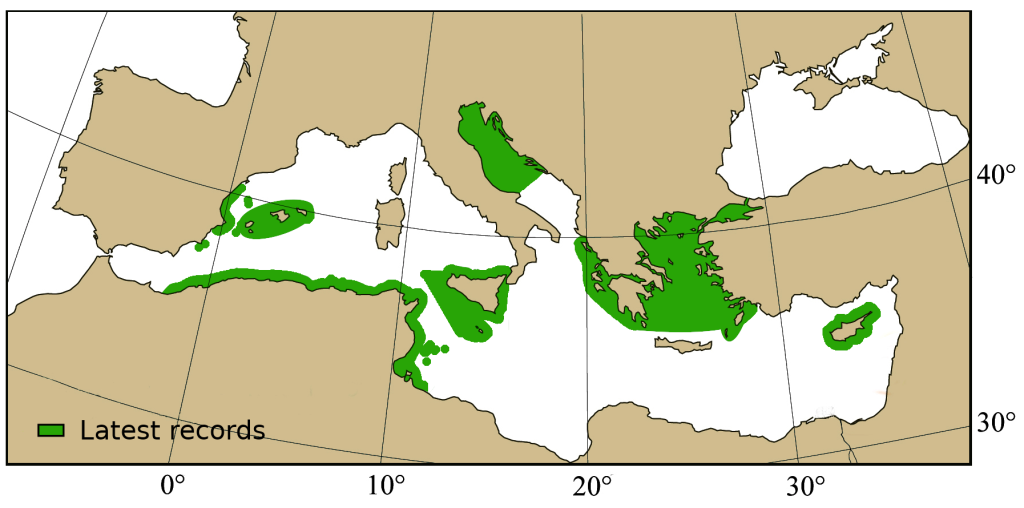 Conservation
Threats: Taken as bycatch in bottom fisheries in coastal grounds.

Protection level:
Global, Europe & Mediterranean: Endangered (IUCN 2016, last assessment: 2016)
Key references
Carpentieri P., Nastasi A., Sessa M., Srour A. 2021. Incidental catch of vulnerable species in Mediterranean and Black Sea fisheries – A review. General Fisheries Commission for the Mediterranean – Studies and Reviews 101: I-317.
Ferretti F., Osio G.C., Jenkins C.J., Rosenberg A.A., Lotze H.K. 2013. Long-term change in a meso-predator community in response to prolonged and heterogeneous human impact. Scientific reports 3(1): 1-11.
Follesa M. C., Marongiu M. F., Zupa W., Bellodi A., Cau A., Cannas R., Colloca F., Djurovic M., Isajlovic I., Jadaud A., Manfredi C., Mulas A., Peristeraki P., Porcu C., Ramirez-Amaro S., Salmerón Jiménez F., Serena F., Sion L., Thasitis I., Cau A., Carbonara P. 2019. Spatial variability of Chondrichthyes in the northern Mediterranean. Scientia Marina 83(S1): 81-100.
Giovos I., Serena F., Katsada D., Anastasiadis A., Barash A., Charilaou C., Hall-Spencer J.M.,Crocetta F.,Kaminas A., Kletou D, Maximiadi M., Minasidis V., Moutopoulos D.K., Aga-Spyridopoulou R.N., Thasitis I., Kleitou P. 2021. Integrating literature, biodiversity databases, and citizen-science to reconstruct the checklist of Chondrichthyans in Cyprus (Eastern Mediterranean Sea). Fishes 6(3): 24.
Ordines F., Massutí E., Moranta J., Quetglas A., Guijarro B., Fliti K. 2011. Balearic Islands vs Algeria: two nearby western Mediterranean elasmobranch assemblages with different oceanographic scenarios and fishing histories. Scientia Marina 75(4): 707-717.
Schembri T., Fergusson I.K., Schembri P.J. 2003. Revision of the records of sharks and rays species from the Maltese Islands (Chordata: Chondrichthyes). The Central Mediterranean Naturalist de Oceanología Academia de Ciencias de Cuba and Centro de Investigaciones de Quintana Roo, Mexico. 4(1): 71–104.
Yaka U., Yüce R. 2006. The rough ray, Raja radula Delaroche, 1809 (Rajidae), new to the Sea of Marmara, Turkey. Zool Middle East 39: 112-114.