Rostroraja alba
Common name: White Skate
Order: Rajiformes
Family: Rajidae
Synonyms: Raja alba, Raja marginata , Raia bicolor
Misidentifications: Raja maroccana
Short description
Very large skate with a long and pointed muzzle covered with small thorns. Rhombic disc with angular corner. Three rows of large spines along the tail. Upper side of the disc is covered with small sharp thorns, no large thorns on the nape or back.

Color: Reddish-brown to blue-grey dorsal surface with distinct light spots. White ventral surface with dark margins on pectoral and pelvic fins. Dark tail.
Measurements:
Disk width (DW): up to 240 cm
Swimming pattern: Undulatory and pelvic fin locomotion (walking and punting).
Egg case
Very large, with striated surfaces, rough to the touch. Posterior horns are very long, three times the length of the anterior horns. Posterior horns tapered and flattened towards their tips, whereas the anterior horns are short, tapered and with attachment fibres.
Size: 12.5-20 cm long, 10-15 cm wide.
Distinctive features:
Capsule length ≥ 4 cm
Anterior horns almost right in shape.
Rostroraja: Long posterior horns of egg-case. Anterior horns length superior to 2 times the posterior. Rear horns relatively short.

Rajiformes / Rajidae: Rectangular egg-case, width no greater than twice the capsule length.
Biology / Ecology
Bottom-predator of bony fishes, other elasmobranchs, crabs, shrimps, mysids, octopi and cuttlefish.
Reproduction: Oviparous. Size at maturity (TL): 130 cm female, 120 cm male. Eggs per year: 55-156. Size at birth (TL): ~30 cm.
Habitat: Demersal species, benthic from coastal waters to upper slope region. Found on sandy, rock-sandy and detriti substrates, from 10 to 750 m of depth (usually between 50-500 m).
One of the largest skates known.
Distinguishing characteristics
Very long and pointed muzzle.
Angular pectoral fin.
Three rows of large spines along the tail and one spine between the dorsal fin.
Upper side of the disc covered with small sharp thorns, no large thorns on nape or back.
Rajiformes / Rajidae: Depressed body. Circular to rhombic disc. Tail well demarcated from disc.
Rostroraja: Long posterior horns of egg-case. Anterior horns length superior to 2 times the posterior. Rear horns relatively short.
Distribution
Worldwide: Eastern Atlantic from the British Islands to South Africa.
Mediterranean: Present in the western and in the northern Mediterranean Sea. Egg-cases collected in the western Sardinian coast.
Occurrence: Rare.
Latest records: Eastern Greece (2018), Malta (2005-2018), Strait of Sicily – Italy (1994-2018), Sardinia (2019), Turkey (2019), Adriatic (2015), Balearic Islands (2012-2015), Corse (2012-2015), Cyprus (2012-2015), Gulf of Gabes – Tunisia (2009), Edremit, Izmir & Sigacik bay – Turkey (2009), Saros bay – Turkey (2006), Algeria (2003), Central Aegean sea (2000), Calabria – Italy (2000).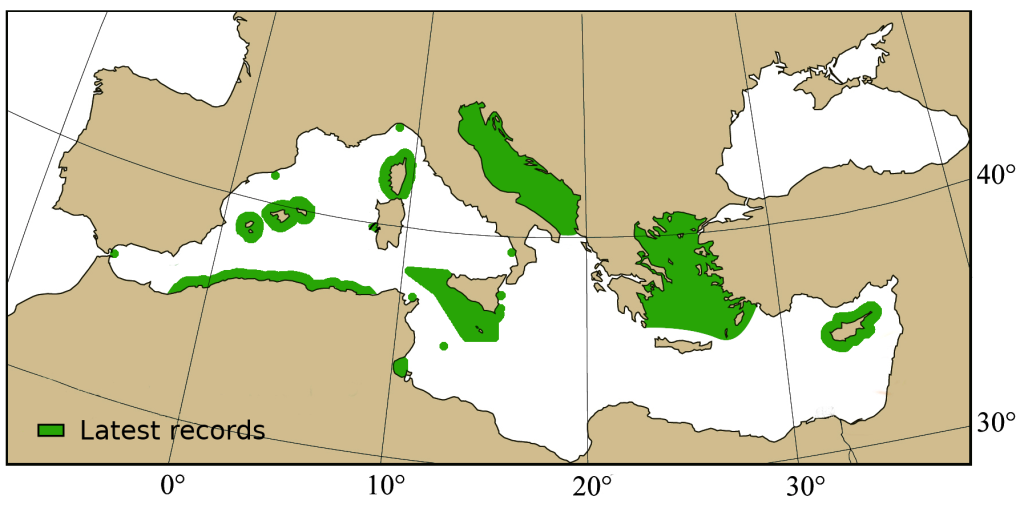 Conservation
Threats: Incidentally caught by trawl and artisanal (trammel and longlines) fisheries.

Protection level:
Global: Endangered (IUCN 2006, last assessment: 2006)
Mediterranean: Endangered (IUCN 2016, last assessment: 2016)
Europe: Critically Endangered (IUCN 2015, last assessment: 2014)
Key references
Carpentieri P., Nastasi A., Sessa M., Srour A. 2021. Incidental catch of vulnerable species in Mediterranean and Black Sea fisheries – A review. General Fisheries Commission for the Mediterranean – Studies and Reviews 101: I-317.
Damalas D., Vassilopoulou V. 2011. Chondrichthyan by-catch and discards in the demersal trawl fishery of the central Aegean Sea (Eastern Mediterranean). Fisheries Research 108(1): 142-152.
Ferretti F., Osio G.C., Jenkins C.J., Rosenberg A.A., Lotze H.K. 2013. Long-term change in a meso-predator community in response to prolonged and heterogeneous human impact. Scientific reports 3(1): 1-11.
Follesa M. C., Marongiu M. F., Zupa W., Bellodi A., Cau A., Cannas R., Colloca F., Djurovic M., Isajlovic I., Jadaud A., Manfredi C., Mulas A., Peristeraki P., Porcu C., Ramirez-Amaro S., Salmerón Jiménez F., Serena F., Sion L., Thasitis I., Cau A., Carbonara P. 2019. Spatial variability of Chondrichthyes in the northern Mediterranean. Scientia Marina 83(S1): 81-100.
Giovos I., Serena F., Katsada D., Anastasiadis A., Barash A., Charilaou C., Hall-Spencer J.M.,Crocetta F.,Kaminas A., Kletou D, Maximiadi M., Minasidis V., Moutopoulos D.K., Aga-Spyridopoulou R.N., Thasitis I., Kleitou P. 2021. Integrating literature, biodiversity databases, and citizen-science to reconstruct the checklist of Chondrichthyans in Cyprus (Eastern Mediterranean Sea). Fishes 6(3): 24.
Mancusi C., Massi D., Baino R., Cariani A., Crobe V., Ebert D.A., Ferrari, C, Gordon A., Hoff G.R., Iglesias S.P., Titone A., Serena F. 2021. An identification key for Chondrichthyes egg cases of the Mediterranean and Black Sea. The European Zoological Journal 88(1): 436-448.
Marongiu M.F., Porcu C., Bellodi A., Cannas R., Carugati L., Cau A., Antonello M., Paola P., Follesa, M. C. (2021). On the presence of the Endangered white skate Rostroraja alba in Sardinian waters. Mediterranean Marine Science 22: 137-140.
Ordines F., Massutí E., Moranta J., Quetglas A., Guijarro B., Fliti K. 2011. Balearic Islands vs Algeria: two nearby western Mediterranean elasmobranch assemblages with different oceanographic scenarios and fishing histories. Scientia Marina 75(4): 707-717.
Ramírez-Amaro S., Ordines F., Esteban A., García C., Guijarro B., Salmerón F., Terrasa B., Massutí E. 2020. The diversity of recent trends for chondrichthyans in the Mediterranean reflects fishing exploitation and a potential evolutionary pressure towards early maturation. Scientific Reports 10(1): 1-18.
Soldo A., Lipej L. 2022. An Annotated Checklist and the Conservation Status of Chondrichthyans in the Adriatic. Fishes 7(5): 245.
Türker D., Zengin K., Tünay Ö.K. 2019. Length-weight relationships for nine chondrichthyes fish species from Edremit Bay (north Aegean Sea). Turkish Journal of Fisheries and Aquatic Sciences 19(1): 71–79.